PROJECT DESCRIPTION
The "Ontology of Information Science" project introduces one possible version of formal knowledge representation as a set of concepts within the information science domain, which can be used as an input for any ontology-enabled intelligent systems and services in order to expand its knowledge base regarding information science.
PROJECT OBJECTIVE
The project attempts to develop an ontology that can assist students and researchers to find faculties who share the same set of research interests.


ONTOLOGY APPLICATION
The following scenario is one possible use of the Ontology of Information Science. Imagine that a faculty is working on some research projects where the project description and the faculty's research interests are not explicitly available. Then, there is a student who seeks for his graduate research advisor sharing the same interests. How can these two people meet up?

Based on the developed Ontology of Information Science, we can represent the knowledge in this scenario as follow: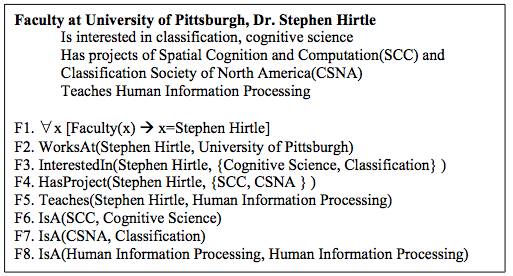 Thanks to the Ontology of Information Science and ontology-enabled intelligent systems or services, we can get the following conclusion from the reasoning below.

PROJECT CONTRIBUTION
Research and develop the ontology in Protege; Documentation;
PROJECT CREDITS
My Team Member: Sueyeon Syn
PROJECT ARTIFACTS