POWER-2-GO™ DESCRIPTION
Power-2-GO™ is an electric rechargable carry-on luggage for business travelers who travel a lot, use electronic devices during their trip, and may have no continuous access to power source.
POWER-2-GO™ INNOVATIVE FEATURES
- Seamlessly integrated battery in a business briefcase
- Excellent battery capacity for supporting heavy business travelers throughout the day
- External retractable power cord to charge embedded battery from AC outlet
- Multiple connectors to provide power source for different types of electronic devices (i.e., laptop, cell phone and IPOD)
- Reduces cable clutter inside the briefcase with hidden retractable cables
PROJECT OBJECTIVE
Power-2-Go™ is a product prototype for a final project of Product Design and Development Class at MIT where the class focused on the end-to-end process of the product design. This project provides great understanding and hands-on experiences in developing a new product that can address the real customers' needs in the competitive markets.
PROJECT EXECUTION
User Group Selection and Needfinding
The team and I selectively defined a target user group based on our mutual interest and perceived market opportunity, resulting in a group of business travelers as a selected choice. We have used assorted techniques of needfinding including interviews, observation, surveys and bug list to identify actual needs of this particular user group. We discovered the following mutual needs of business travelers:
+ The need of using devices (i.e., cell phone)without an interruption
+ The need for continuing to perform daily activities while using the device
+ The need of organizing and space saving of multiple devices
Concept Development
We have brainstormed and chosen a backpack with rechargeable battery concept, which could benefits a wide range of users from students to professionals as they are carrying their laptops, smart phones, and other electrical gadgets most of the time. This makes the battery life become a greater concern. The backpack with rechargeable battery concept is a charging system for the individual on the go. The rechargeable battery is located at the base of the bag while this battery is charged through an extensible electric cord that can extend out of the backpack where the laptop and smart phones are housed in specific compartments where there is easy access to the charging wires.
Product Specification Design
Since the product is a charging system integrated into a backpack, both the customer's need for the enhancement of battery life and need for a basic backpack have to be taken into account. The six customer attributes we brainstormed were comfort, style, practicality, price, durability, and adequate energy storage (shown on the top row). The key customer attributes mapped to engineering specifications for this concept are summarized in table below.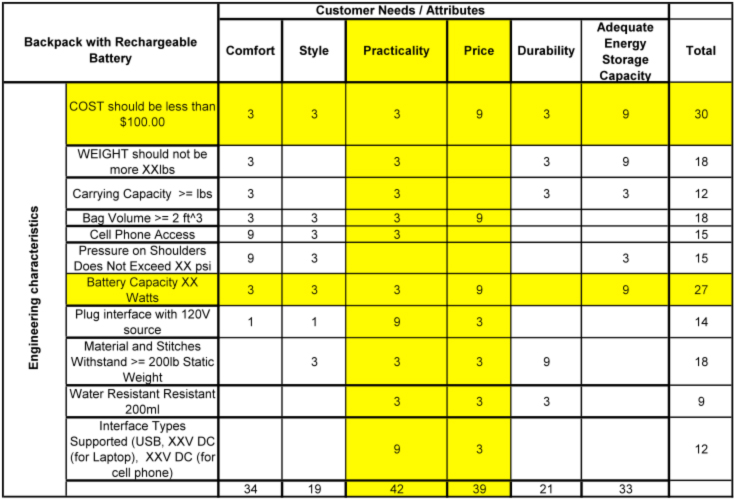 Comfort, style, and practicality are both customer attributes that are very difficult to quantify in engineering characteristics. Comfort is whether the user finds it good to wear and does not cause annoyances in fit. Style is whether the backpack is visually appealing to the user. Practicality embodies whether the backpack is easy to use. Price, durability, and adequate energy storage capacity are easier to assign with engineering characteristics. To gear it toward the student and professional market, we specified the price to be $100 or less. This is a preliminary value, but we are hoping to be able to keep this specification. Durability is mostly dependent on materials and stitching which we specified as having to withstand 200lbs static weight.
PROJECT CONTRIBUTION
Team forming; Storyboarding; Power-2-Go™ Video Production; Product Parts Drawing; Documentation
PROJECT CREDITS
My Team Member: Wassim Bassalee, Thomas Higdon, Ken Inada, Del Munkhbaatar and Haiying Ren

PROJECT ARTIFACTS

User Need Report

Product Contract

Final Presentation